James K. Galbraith: "The level of inequality in the country can be correlated with the dollar rate"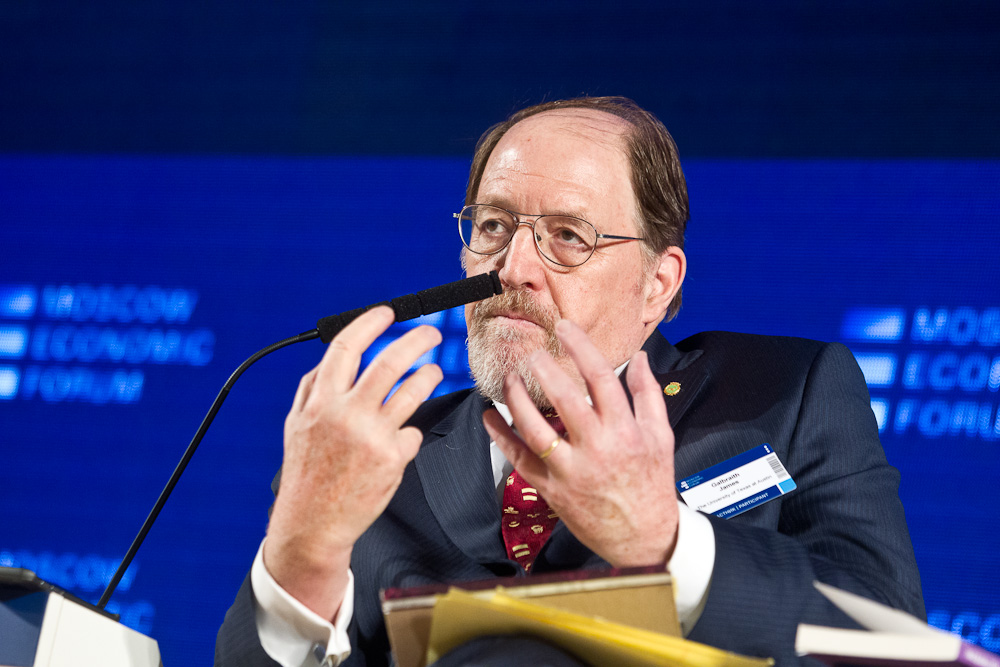 ---
Published: March 30th, 2017
James K. Galbraith, professor of the School of Public Relations named after Lyndon Johnson talked on the issue of inequality and the growing gap between the rich and poor within the framework of the I Plenary discussion of the MEF "A confused man between despair and hope: the world situation and the Russian specifics".
"Our approach is to understand the patterns underlying inequality, to identify certain events and phenomena that can be observed constantly in different countries. When you plunge into the topic of inequality, things are not so obvious: regional features and global models that are characteristic of the whole world are emerging," said Galbraith.
The speaker notes that the beginning of a large-scale division of society by income is typical for the 30s of the last century. The changes that occurred at that time had a serious impact on inequality throughout the world. In some countries, it may have been even brighter than in Russia. In the US, there is also a fairly serious level of inequality. In 2000, many countries that were moving along the liberal policy model reached a certain level of stabilization.
"There is evidence that the level of inequality in the country can be correlated with the dollar. The fundamental problem of increasing inequality is the global financial regime. Those who run a modern system, protect this regime, "- says Galbraith.
When asked if the US will succeed in reducing inequality in society, James K. Galbraith answered in the negative. The political task of the United States is to recreate the values on which the state was built, the prices of the middle class and welfare for the whole country. But, according to the scientist, the new administration is unlikely to achieve change, since it does not have a clear program.