№29. Round table "Russia–Ukraine: Are Bridges Ready to Be Built?"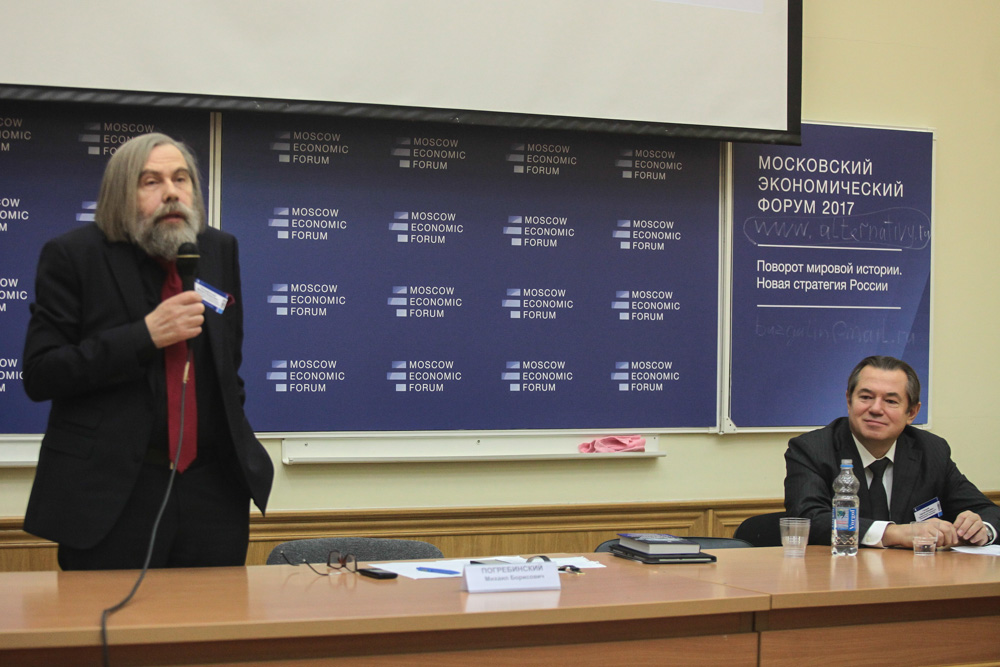 ---
Published: March 31st, 2017
In the Moscow State University on March 31, a round table "Russia-Ukraine: Are Bridges Ready to Be Built?" Was held. A discussion on such an urgent and resonant topic was held within the framework of the Moscow Economic Forum (MEF). Experts from Russia and Ukraine took part in the discussion.
News from Ukraine is causing growing concern. The Minsk process has reached a dead end. The experts of the MEF discussed ideas and strategies for overcoming the crisis in the East of Ukraine, how possible scenarios for the development of the situation will affect Russian-Ukrainian relations, and whether the new US administration will be able to make a positive contribution to the settlement of the conflict.
The moderator of the round table was the director of the Kiev Center for Political Studies and Conflict Studies Mikhail Pogrebinsky. The expert believes that the president of Ukraine and his administration are guilty for the current unprecedented deterioration of the situation. At the same time, out of the crisis, according to Pogrebinsky, the country alone cannot.
"By its own efforts to pull itself out of this swamp Ukraine is unlikely to succeed. The realistic plan is that someday, perhaps, there will be a conference with the participation of the United States, the EU and Russia. It would be good if the participants in this hypothetical conference decided on how the Constitution of Ukraine should change, which would solve the general problem connected with the loss of state control due to a shortage of resources, "the political scientist said.
It was noted that Russia for its part fulfills the Minsk agreements, while other countries do not intend to do so. According to experts, the actions of the Ukrainian authorities in relation to Russian business forces Russia to leave Ukraine, so it is necessary to discuss not the prospects of development of economic development cooperation, but the prospect of the most painless withdrawal of Russian business from Ukraine.
Vladimir Ivanovich Babkin, an expert to the State Duma, is sure that the first dismemberment of Russia occurred as far back as 1917, and its consequences are now being observed. According to the speaker, it is rather difficult to talk about building bridges with Ukraine, which adheres to anti-Russian policy. The speaker also stressed that the low level of education of the population, allowing them to manipulate, is the main tool for agitation of nationalist movements.
Director of the Ukrainian Center for Social Analytics Evgeny Filindash, President of the Association "Suppliers of the Customs Union" Oleg Noginsky, Head of the NewsFront news agency Konstantin Knyrik, sociologist Yevgeny Kopatko and many others took part in the discussion.
The conference participants concluded that Ukraine is under external management and cannot cope with the situation itself, so much in resolving this issue depends on the reaction of other countries. It was also noted that with the coming to power of Donald Trump, there is some uncertainty in this issue.