Konstantin Babkin: Bifurcation of economic policy should be overcome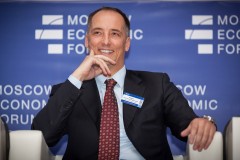 ---
Published: March 15th, 2018
The results of the All-Russian Forum of Agricultural Producers, held in Krasnodar on March 11-12 at the site of the Kuban State Agrarian University, are summed up. The event was held with the participation of representatives of federal authorities, heads of regional agrarian and industrial complex controls, leading agricultural enterprises and farms, industry unions and associations.
During the forum, the issues of the strategy of development of agriculture, food and processing industry, development of farms and cooperation, rural areas were raised. The plenary session was attended by Vladimir Putin.
The forum was also attended by the president of the Rosspetsmash Association, the chairman of the Moscow Economic Forum Konstantin Babkin. According to him, positive trends in the development of domestic agriculture were outlined at the event. To support the agrarian sector, representatives of the Russian Ministry of Agriculture have identified priorities, including: market protection, equal competition conditions, targeted subsidies, support for education and the creation of comfortable living conditions in the countryside. Officials also talked about the need to develop the processing and export of processed products.
"Rhetoric on the forum allows us to hope that this potential (the potential of the agricultural complex - Editorial Ed.) Will gradually be realized," notes Konstantin Babkin. At the same time, the discussion took place without the participation of financial and economic authorities. For this reason, there were no concrete proposals for changing the course of the tax and monetary policy that are necessary in connection with the given growth rates of the agro-industrial complex. "Here, in this problem, in the dual ideology of the Government, or rather in its solution, the main potential is concentrated," concluded Konstantin Babkin.